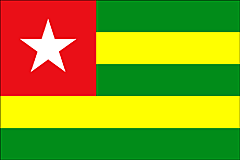 The nation of Togo ranks 162 out of 187 nations on the United Nations Human Development Index (with 187 being the least developed). The life expectancy is 57. Nearly 40% of the population of 6 million live on less than $1.25 per day. Over 50% of the population live in 'intense deprivation'. In basic terms what that means is that there is very little access to health care in the nation, especially outside of the capital of Lome. Even where some health care is available it is well outside the financial means of the majority of the population to pay for it.
The reality of the impact those statistics have on the people of Togo is why God has called Mercy Ships to the mission of brining hope and healing to the poor; huge facial tumors, vesico-vaginal fistulas, severe extremity deformities, untreated burns resulting in crippling contractures, incredible numbers of dental needs, untreated cataracts, and the list goes on.
In human terms, each of those people is someone whose life has been negatively impacted by issues that are easily preventable or quickly corrected in nations with even moderate health care services. Many of these wonderful people can no longer find work and, in some cases, are even outcast from society.
Mercy Ships cannot 'fix' all of the issues in Togo's health care system (or lack thereof). We have, however, been called to minister to those that God has for us during our time here by providing specialized surgical intervention and addressing other healthcare needs in our areas of expertise. Our goal is to provide practical ministry and touch each person with the love of Christ. We also purpose to do what we can during our time here to come alongside those working in the health care system of the nation to support, encourage, and train so that the impact of our presence does not end when we sail to the next port.
On February 1st we will hold a mass screening to identify patients that we will be able to help during our time here. This is a huge undertaking that requires everyone on the vessel to participate in some fashion, even those who must remain behind to take care of essential ship functions. We anticipate seeing between 3,000 and 5,000 people at the screening. Please be in prayer that the process will be safe and that our planning will be carried out in unity.
We'll keep you updated on how the screening goes.